About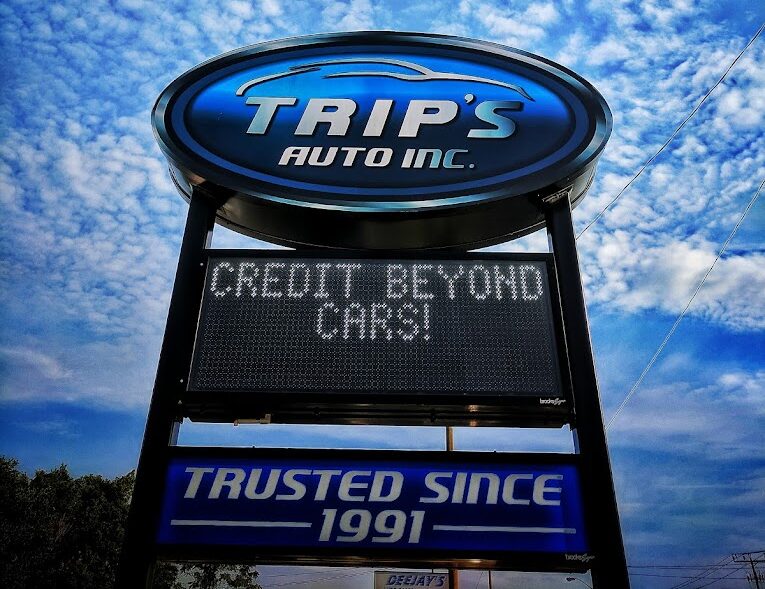 Come and find out more about our team, our values, and what makes Trip's Auto just a cut above the rest
Since Trip's Auto opened its doors, we have been consistently striving to provide the BEST quality new and used vehicles to the Brantford area. We have a passion for serving our community, and providing the best automotive services around.
Customer service is our number one priority, and this commitment to quality extends to every department. That means that your experience with Trip's Auto will exceed your expectations.
Building lasting relationships is what we're all about. We want every customer to feel confident with his or her purchase, and to have a stress-free experience. Our friendly team will happily give you a test drive of any of our vehicles, or answer any questions you have with NO sales pressure.
We look forward to welcoming you to our dealership located at 50 King George Rd. in Brantford, and helping you meet all of your auto needs!
★ ★ ★ ★ ★

Great Company with very competitive pricing. They handled my sale with professionalism and expert advice, I will definitely be recommending this dealership team to every and anyone needing a car.
★ ★ ★ ★ ★

I showed up interested in a Traverse for sale. JP and Luis were super helpful and accommodating and made the whole process smooth sailing. Will definitely go back when it's time for my next vehicle. Very professional and friendly salesmen. Such a great experience!
★ ★ ★ ★ ★

I had the pleasure of meeting Miguel on the Labor Day weekend when I was desperately trying to replace a truck that had been stolen from me earlier that week. He was willing to meet with my wife and I on the Saturday (his daughter's birthday) to view a truck that he had on his lot. WOW!! Who does that anymore! I was so impressed with him, his dealership...
★ ★ ★ ★ ★

This has been the best experience I have ever had getting a car. Right from the day we walk in they treated us amazing. Even after seeing it was going to be a little tougher they stuck to it and got us the best deal possible. J.P. Is a miracle worker. Thank you so much for taking care of us.
★ ★ ★ ★ ★

WOWWWW. I just got my car today. Miguel and JP both did everything and more to answer my question and any worries I had. Not only they help but they were very honest through out the whole process. They made me feel that they appreciated my business and payed attention to my needs. Thank you guys I will recommand you in a heart beat to all my friend...